Slider New Slider 1.1.1 Universal!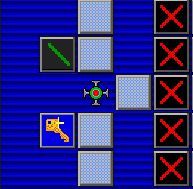 Slider is a puzzle game, you must guide sliding key blocks to the right goal squares. When you have, you can move to the next room. Sounds simple? Well, getting key blocks around walls, reflecting blocks, bomb blocks, and other hazards makes it harder than you might think! And the clock is running, the faster you play the higher your score. 50 puzzling levels, and a built-in editor to allow you to create more levels to challenge you or your friends. FREE!!!!
Old Versions
If you have a PowerPC Macintosh with Mac OS 7 through 9, get this version
If you have an older, 68K Macintosh, download this older version of Slider
If you have an even older, Black and white fat Mac or Mac Plus, dude, get a new computer
For Mac OS 9 and earlier K2500 Companion.
Your connection between your Macintosh and your Kurzweil K2500/K2600!
Read about it in the documentation on-line here.
Dropper for Mac OS X
Dropper for Mac OS 7-9
Cubes drop from the top of the window, and your goal is to stack and line them up. Line them up vertically, horizontally, and diagonally. When you line up the correct amount (4,5 or 6, depending on the level you are on) the cubes vanish and your score increases. A drop can result in two or more lines vanishing at once, you'll get a bonus if you can do that. Good for young children.