C.K's Flight Log 2014-2016
Go to 2013 2012 2011 2010 2009 2008 2007 2006 2005 2004 2003
Places I've been, how I got there, comments on airports and navaids. I fly out of Reid-Hillview airport and I'm parked at Hangar 2-10. Stop by and say "Hey"! Latest flights first : Note: All flights since May 2004 are in Mooney M20K 231 N3636H unless otherwise indicated. Flight track graphics from FlightAware And send comments,dang it, flight@ravenware.com
For a variety of reasons flying has been limited for the past few years, fixing that.
9 August 2016 RHV-KTRK-RHV time:3.0
Had a GTX 345 put in to insure I'm ADS-B compliant, took it up for a spin. Easily paired with my iPad Pro and gave me all the traffic and weather goodness you would want to have.
Flew up to Truckee to do so for fun, in 12 years of flying in this area I've never landed at Truckee.
Good day for it, clear and reasonably cool VFR, very light winds. Which is good, after landing and taking off at Truckee I've put this on my list of Don't go here IFR airports.
Truckee is in a bowl in the mountains. First challenge is to get there. I fly over the Sierras in that area often, but always above 14,000 ft.
To land comfortably in Truckee, though, you need to be at at least 11,000 ft. as you come over the hills, and then drop down rather quickly to the 7,000 ft. traffic pattern altitude.
Once there, you kinda skim the tops of the trees to land. Fortunately the runways are very long, you have plenty of margin.
Taking off is a bit more fun. Density altitude was about 8,100 ft. Since I have a turbocharged engine producing power wasn't an issue.
But getting climb rate, even with full power, took a while. Even though I was light (just me and 35 gallons of fuel) I chose to climb in the pattern over the airport up to 10,500 ft. before exiting the bowl.
Kept the climb going after that up to 12,500 just to get out of the turbulence. Very bumpy even on a relatively calm wind day.
Back to RHV, straight line. Not a good approach so went around on the first attempt, very good landing on the second.

25-26 June 2016 RHV-PRB-RHV time:2.2
Wanted to go do some wine tasting. Originally planned to fly up to Walla Walla to meet some other Mooney drivers. However, Friday showed an icing AIRMET and 28 knot gusts at Walla Walla (end of June!) so scrubbed that. Got a hotel room at Paso Robles and went there. From RHV to PRB is almost a straight line, you just have to be sure you do't cross the restricted area near PRB. Easy flight, no bumps either way, and good landings at either end.

5 June 2016 RHV time:1.0
Up and around the flagpole. Flew over to Watsonville, then Hollister, then back to RHV for a nice landing.

25 May 2016 RHV time:1.3
Doing my WINGS for the year. Good flying under the hood, good stalls, just reminds me how benign my airplane is in stall. Then a bunch of landings to get things just right. Flight track from Foreflight.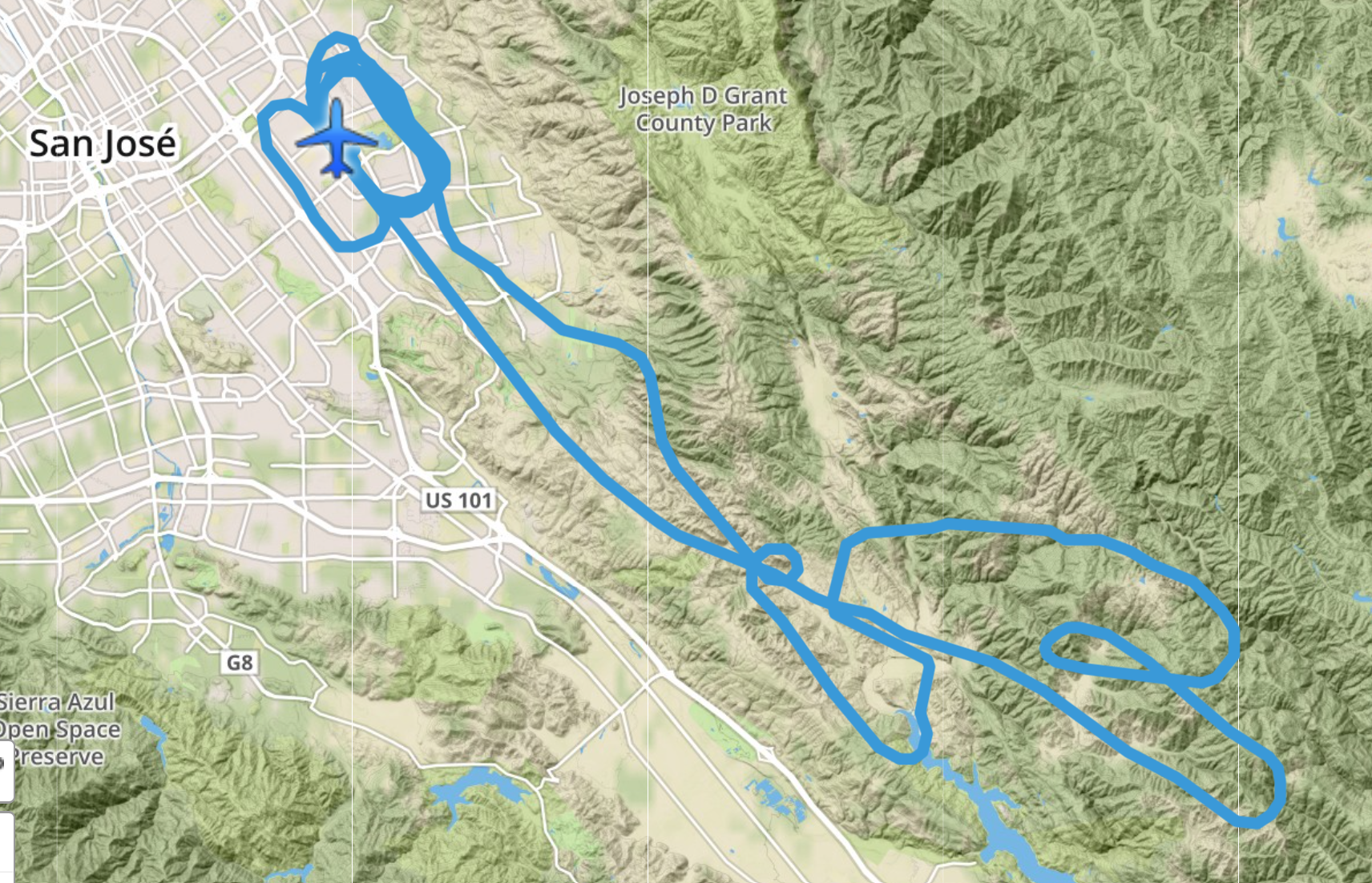 Had a few flights in 2015 (including my annual WINGS) but nothing to note.

17 April 2014 RHV time:2.5
Long layoff again. Up to brush up with my instructor . Took off, set a heading to Stockton and leveled off. Air work, slow flight, stalls, steep turns, etc. This was all a piece of cake, the flying part of flying comes back in minutes, Don even comments on how smoothly I fly.
After doing that stuff, turned towards Livermoore and asked NorCal for a practice ILS into the airport. Granted, vectored. Activated the approach in the 530, hit APPR and ALT on the autopilot and sat back. Everything working fine, AP tracked in great. About 800 ft. we broke off the appraoch and started landings. 11 of 'em. Don likes stuff to be perfect. Final one was on teh 2.600 ft. runway at Livermoore and was good, so cruise on back to KRHV and landed, landed well.